I am ecstatic with the results
Date: 31/05/2018
/
Author: Ms Trúc
I am ecstatic with the results.

We have visited the Nhan Tam Dental Clinic in May 2015 and again late last month in April 2016. In 2015 I had my entire upper teeth rebuilt, titanium plated and crowned. We went back in 2016 to complete the process on my lower teeth. To say I am ecstatic with the results is an understatement. WOW. Dr Bao you are one fantastic Orthodontist/Dentist. You are also "Doctor No Pain". On this visit Marg had a crown and two veneers to her upper front teeth. She is so pleased with the work Dr Cuc has performed and also cannot speak highly enough of the care and attention.
Doctor Nhan, you are very caring and direct in what options we had and we thank you for arranging extremely high quality dental work at a price far less than we could expect to pay in our country. One of the added benefits of attending your Dental Clinic and Hospital is the additional professional Doctors on duty who are called in for second opinions at stages of treatment and the wonderful (and large number) of Dental attendants. To all our friends (try Facebook) or people who are interested in having high quality dental work performed in a beautiful and friendly country that offers many surprizes, please consider the Nhan Tam Dental Clinic and Hospital in Saigon. Yours Sincerely, Ken and Margaret Gevaux Brisbane, Australia.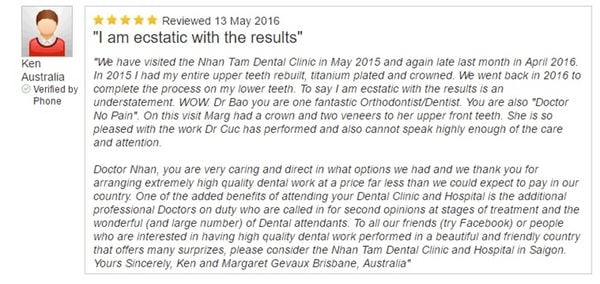 NHAN TAM DENTAL CLINIC
Address: 803-805-807-809, 3/2 Street, Ward 7, District 10, HCMC
Hotline: 1900 56 5678
Thank you for visiting www.nhakhoanhantam.com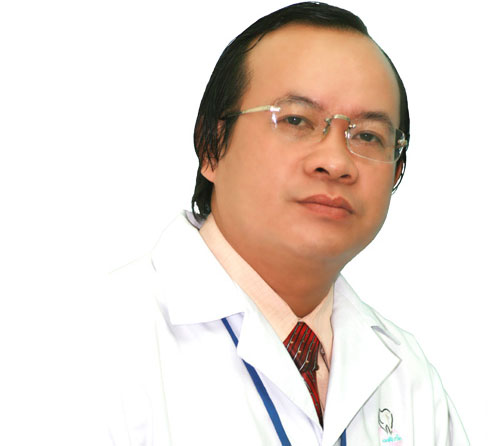 FIVE GOLDEN ELEMENTS MADE THE NHAN TAM DENTAL CLINIC BRAND
Professional ethics is the primary responsibility li>
Update and apply the latest dental technology to the treatment li>
Yearly experienced dentists team and 20 years customer's verification li>
Focus on the quality of service, ensure the results li>
The best customer care and services li>

COME WITH US TO GET YOUR HEALTHY TEETH
801-809 3/2 Street, Ward 7, District 10, Ho Chi Minh City, Vietnam li>
Hotline: 1900 56 5678 li>
Mobile: (+84) 903 632 701 - (+84) 938 967 858 li>